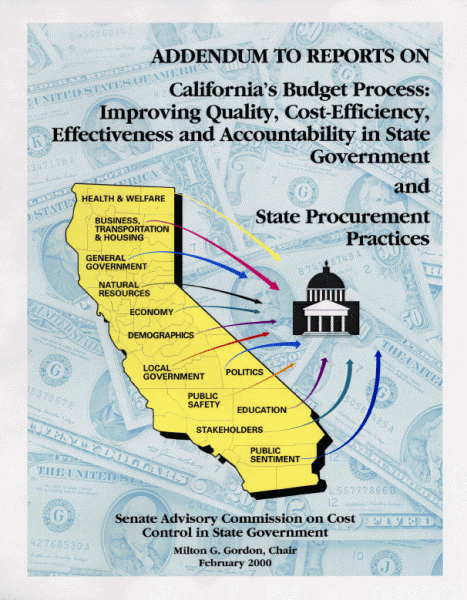 ADDENDUM TO REPORTS ON
CALIFORNIA'S BUDGET PROCESS:
IMPROVING QUALITY, COST-EFFICIENCY,
EFFECTIVENESS AND ACCOUNTABILITY
IN STATE GOVERNMENT
AND
STATE PROCUREMENT PRACTICES

Senate Advisory Commission on Cost Control in State Government
Milton G. Gordon, Chair
February 2000
The Senate Advisory Commission on
Cost Control in State Government
Budget/Procurement Implementation Task Force
Werner P. Austel
Louis W. Barnett
John M. Basler
Fredric S. Freund
A. Alan Post
Senate Advisory Commission on Cost Control in State Government
Milton G. Gordon, Chair
Werner P. Austel
Jacqueline M. Bacharach
Louis W. Barnett
John M. Basler
Carl A. Blomquist
Jerry Chang
Jerrold A. Fine
Robert L. Fox
Fredric S. Freund
Louise Gelber-Fetchet
Edwin Goldberg
Executive Director: Norma J. Dillon
Commission Secretary: Janice A. Stork
Raphael L. Henderson
Donald Jackson
Beth Kennedy
David Lopez Lee, Ph.D.
Dick Mak
Leo E. Mayer
Vivian L. Nash
A. Alan Post
John Rivera, Ph.D.
Robert E. Simms
Stanley Stalford, Jr.
Table of Contents
Page
I. INTRODUCTION………………………………………………… 1

Scope of the Addendum Report
Methodology of Collecting Information
II. OVERVIEW OF UTILIZATION OF INFORMATION
TECHNOLOGY IN STATE OF CALIFORNIA
OPERATION……………………………………………………… 2

Concerns and Limitations
III. IMPACT OF INFORMATION TECHNOLOGY ON
PROCUREMENT………………………………………………… 5
IV. IMPACT OF INFORMATION TECHNOLOGY ON
BUDGETING……………………………………………………... 7
V. RECOMMENDATIONS………………………………………… 9
VI. ADDITIONAL REFERENCES………………….……………… 14
VII. CONTRIBUTORS………..………………………………………. 16
VIII. COMMISSION MEMBERS AND STAFF BIOGRAPHIES 18
IX. LIST OF COMMISSION REPORTS…………….…………….. 22
X. LINKS TO INTERNET SITES…………………………………. 23
I. INTRODUCTION
The Senate Advisory Commission on Cost Control in State Government published a report on State Procurement Practices in April, 1996 and a report on California's Budget Process in January, 1999. The Commission identified that the major roadblock to obtaining the huge savings potential cited in these reports was the lack of information on costs, efficiency, program outcomes, quality of service, and resource utilization. The management and utilization of information technology in state government has been costly to operate. It has also resulted in several major failures of new systems. Yet, the existing systems do not provide the financial and operational information vital to efficient management of the State of California.
This report is an addendum to the previous reports focusing on information technology. It brings current the progress made since the previous reports were issued, points out major concerns, and makes a number of recommendations to move California into the 21st Century using the modern information technology tools currently prevalent in the public and private sector and available commercially off-the-shelf and fully tested in business operations. A number of public entities have adopted modern information technology.
The information presented in this Addendum was gathered through many interviews with people in the information technology field and in key staff positions within government and the private sector as well as a review of a myriad of studies and reports available to our study team. A list of the individuals and organizations interviewed and a bibliography of the reports and publications studied is included in the back of this Addendum.
II. OVERVIEW OF UTILIZATION OF INFORMATION TECHNOLOGY IN MANAGING OPERATIONS OF THE STATE OF CALIFORNIA
1. State Organization and Constitutional Responsibilities Complicate Management of State Operations.
The Constitution of California establishes a number of Officers directly elected by the voters. These include the Governor, Lieutenant Governor, Attorney General, Controller, Secretary of State, Treasurer, Insurance Commissioner and Superintendent of Public Instruction and four members of the State Board of Equalization. This structure has led to diffusion of accountability with diminished authority for the Governor to manage the entire operations of the State. In the past the cabinet secretaries have been given increased authority over their functions.
There are established, in state government, accounting offices at the agency and department level as well as for boards and commissions. These accounting offices have created accounts and data requirements for their specific operational needs beyond those accounts required by the State's uniform code manual (UCM). As the size of these organizations grew with services and requirements they increasingly sought information system solutions. Systems were created, enhanced and replaced with the evolving availability of new hardware and software.
Decentralization of system designs has resulted in a proliferation of systems with different platforms and no uniform databases and little ability to exchange information. It has been estimated there are about 1800 systems which cost about $2 billion annually to operate. All the agencies continue to want system enhancements. When the Department of Information Technology began operations in 1996 there were $2.3 billion in system projects awaiting approval. Unfortunately, despite the huge cost for these systems it is still not possible to summarize data for the entire State.
It is only too evident, that the current culture of strong decentralization is out of balance. There has been a conspicuous absence of leadership and direction for state operations. All of the agencies and departments seem to do their own thing within legislative requirements. In addition, there does not appear to be any central support for those functions which are common to all agencies and departments.
2. No Uniform System of Accounts.
California State Accounting Reporting System (CALSTARS) was created to provide the agencies of the State "with an automated organization program cost accounting system to accurately account for all revenue, expenditures, receipts, disbursements, and property of the state."
The limitations of CALSTARS as a statewide financial management system are:
a) Not all state entities use CALSTARS.
b) While the 25 tables for different specific data available to each
entity provides flexibility, they prevent summarization for statewide results at the sub-coding level. These are sub-codes that are not required by the Department of Finance and provide a greater amount of detail for the expenditures. Sub-codes do not provide the capability for organizations to track expenditures by specific activities.
The Controller's disbursement system prints checks and accepts payments. It reflects the appropriation codes but carries no detailed information on the nature of the expense nor, the individual incurring it. It is not a cost accounting system as would be utilized in private business operations.
No complete uniform system of account codes exists in the State except at the UCM level. While the accounting system for the State records financial data required by law, it does not provide useful operational data to manage an organization.
3. Information Systems Are Focused On Agency Requirements.
The existing multiplicity of systems is the result of each agency designing systems to meet its specific functional needs. Even proposed new projects now use different platforms; for example, Oracle, Peoplesoft, SAP, all have differing architecture and data input fields. In the absence of a statewide strategic plan individual projects tend to be agency focused. "The Department of Information Technology (DOIT) is charged by statute with identifying which applications of information technology should be statewide in scope, and ensure that these applications are not developed independently or duplicated by individual state agencies."
No long-range enterprise plan has so far been developed which will over time evolve to a total statewide system. "Certain activities such as payroll/ personnel, inventory, accounting and purchasing are common to many or most state government entities". A long-range master plan for development of these systems has not been created. Such a plan should include an evaluation of the benefits versus cost of retaining existing systems so that operating costs can be saved by replacing them with more efficient and feature-rich, robust technology. In the absence of such a plan individual agency applications will continue to be retained and enhanced. The approximately 1800 disparate systems need to be considered for retention or replacement as part of the plan. Commercial off-the-shelf software systems should be included in the plan as an economic alternative to specifically designing the software for the State.
Deferral of new applications must be made to ensure that when designed, they meet the plan. Unless legislative requirement demands that a system be put on line, new applications should be deferred. This will move project IT dollars over to applications which provide economic saving or service improvement and still fit into the statewide system architecture in the long-range plan. System enhancements are prevalent throughout state government therefore, immediate action is warranted.
4. Management of State Operations.
As mentioned above, the Governor is the manager of all state operations in the eyes of the public, even if not in reality. The organizational barriers as well as the lack of overall operating results for cost, productivity, service levels and resource utilization make running the state very difficult. Most large organizations in the private sector have a chief operating officer (COO) in addition to a chief executive officer (CEO). If the Governor had a COO operating with the cooperation of the independent constitutional officers, then the coordination of activities, sharing of resources and support would aid in meeting the State's business objectives. With properly designed management information systems, objectives could be set and results tracked. Teamwork could be built to achieve a more successful overall enterprise. Accountability would be increased and good performance given recognition. An effective COO would enhance the performance of the Governor. Public information could be provided to share successes with the general public, especially taxpayers and voters.
Any software program must be designed around the outputs desired so that input data can be included in the design. So it is imperative that performance and results measurements be defined before any coding can be put on paper. This, of course, requires consultation with line managers to make sure the measurements are appropriate and necessary to run their operations. Measurements should include costs, efficiencies, quality of service, and program outcomes. Measurements similar to those used in other organizations and other states with the same functions allow for benchmarking in setting performance targets.
5. e-Commerce Is Sweeping The State.
The exploding availability of on-line services on the web is creating a market for e-commerce in providing state services to the public. Every organization wants to "get with it."
A word of caution is warranted on e-commerce applications. The State needs to have the infrastructure in place to support e-commerce as well as making sure that an application fits in with the State's overall operational and technical strategic plans. Careful consideration needs to be given to ensure that applications are not only user friendly but also capture all the necessary financial and accounting information so that necessary recording of every transaction including related performance measures are gathered on an electronic basis and not paper. A series of on-line services, which are not easy to use and do not provide the desired service, will not be utilized by the public. A good advertising program will be necessary to eliminate any confusion with existing service.
6. Lack of Trained Information Technology Personnel.
Hiring and the retention of talent for the future is vital to the development and implementation of an information technology strategy. Refer to a study done in July 1998. It has been stated that 20% of the IT positions as yet have not been filled.
7. Overall Evaluation of California Management of IT.
Governing Magazine rates all states on the use of information systems in state operations. California received a C- in the most recent rating though California leads the world in computer and software industries. We are several decades behind the private sector in using high tech products in state government.
III. IMPACT OF INFORMATION TECHNOLOGY ON PROCUREMENT
1. Volume Discounts.
The State of California continues to throw away at least $1 billion every year by not taking advantage of volume discounts. This is based on the assumption that the State buys $4 billion worth of goods and services. It is also based on what the private sector has experienced as well as what the State's experienced contracting managers have stated.
The good news is that DGS recognizes the importance of volume discounts and would like nothing better than to expand the number of contracts for the State with volume discounts. DGS is frustrated since there is no system information infrastructure in place that enables it to do so for the entire State. Adequate procurement information at the State level does not exist. No one knows how much the State buys from a specific vendor nor, how much of a specific item or type of service the State buys from a given vendor. This is because the State does not have a uniform vendor numbering system that all state organizations use. Many agencies have their own numbering system for vendors making it almost impossible at the State level to determine how much the State is buying from a specific vendor without a special costly study.
The State also does not have a uniform product identification numbering system that identifies the specific items or types of service that the State buys. The State uses Standard Industry Codes (SIC) which only provides a high level description of what is purchased. For example, the State needs to know how many dollars it is spending with Hewlett Packard and how many Pavilion 8260 computers it is buying. Without this information it is difficult to take full advantage of the potential savings that could accrue to the State from volume discounts. In effect, the State is wasting money because it does not have the system information infrastructure in place that would give the capability to contract managers to obtain volume discounts.
In addition, there are organizations in the State that contract and purchase only for themselves. For example, the University of California, State Universities, Public Employees' Retirement System, Teachers' Retirement System, legislative offices, Legislative Analyst Office and the Judicial organizations contract and buy independently of other State organizations. Including their purchase volumes with the State as a whole would vastly increase the potential for volume discounts.
Of course this generates the question – "How much is the State really buying?" No one knows.
It should be noted that the Department of General Services (DGS) does have contracts in place in which volume discounts are being achieved as a result of identifying purchase volumes. For the fiscal year of 1998-1999, DGS had contracts in place worth $695 million dollars that resulted in volume discounts. This must be expanded for the entire State.
2. Purchasing.
It is very encouraging to see that DGS is now exploring how to simplify the purchasing process and moving away from transaction types of contracting and purchasing. This not only is a costly paper based process, but it is also results in long delivery times. The consequences is that people stockpile supplies because of the long time it takes to obtain goods using the transaction process. This is known as "just-in-case " inventory management rather than the "just-in-time" system used in industry today. Employing CMAS simplifies the ordering process and the delivery of the product is faster reducing the need to have inventory on the shelf "just-in-case." The only problem is that employees have to "shop" to obtain the best price – and this is not always being done. Additionally, at times state employees can find what they need at a cheaper price from another source.
DGS is exploring the use of business to business (B2B) purchasing systems type of e-commerce, which we feel, is in the right direction. However, a statewide system is essential, since purchasing is a common function performed by all agencies. Unless it is supported and employed throughout the State it will have only limited value. Currently the agencies purchasing systems and the Controller's systems do not work together resulting in a costly manual paper process.
The other difficulty comes about because of the variety of accounting systems and codes used by the agencies. This makes it difficult, if not impossible, for the State to implement an end-to-end electronic data interchange purchasing system, i.e., from the ordering of an item to the bill payment to the vendor without paper being involved.
3. Inventory.
Again, because the State does not have a uniform inventory management system in place, organizations have either developed their own inventory management system, or are planning to develop one, or they plan not to have an inventory management system. Consequently, items can be stored on the shelf for long periods of time in one organization, while another organization places an order from a vendor for that same item. There is no shared information available to enable an organization to use items that are sitting on the shelf of another organization's warehouse. There does not seem to be a pervasive understanding that having items on the shelf is just like storing money on the shelf and not using it.
IV. EFFECT OF INFORMATION TECHNOLOGY ON THE BUDGET
1. Basic Budget Process Is Not Driven by Cost-Efficiency Concerns.
There is a pervasive culture in the State of "spend it or lose it." That is because the budget process being employed uses baseline data. In effect, what you spent last year is generally what you get this year, with a cost of living increase. However, when there are agency requests or legislative requirements for additional dollars, analysis is made to determine the appropriate amount of budget increase. The Department of Finance's budget staff analyzes these requests, known as enrollment, caseload, and population budget change proposals (ECP-BCPs). This is a time- consuming process not only for the Department of Finance's budget staff but also for the agencies. The personal knowledge of the Department of Finance's budget staff about an organization also enters into the outcome of the final budget.
Governing Magazine says this about California's budget process. "As in New York, the budget process itself is protracted, contentious and cumbersome, complicating the lives of many state government managers."
It is most unfortunate that the State does not have data at the activity level that permits the budget staffs to review unit costs for a specific activity, or service satisfaction level, or whether an organization accomplished its program objectives. Currently, the state does not know what it costs to deliver an individual unit of service or how good that service is being delivered. Because the State lacks a complete uniform management information system, it is virtually an impossible task for any organization to provide this kind of data. Consequently, we have not seen any attempt on the part of the State to tie funding of programs to demonstrated effectiveness and efficiency.
It should be noted that the Office Of Fiscal Services in DGS is currently testing an activity based financial system that appears to be promising, if it is utilized properly. For example, this system tracks what the DGS costs are for maintenance per square foot in buildings. This enables them to benchmark with outside industry as well as give them the financial data to determine what to charge their clients. This system, along with service satisfaction surveys, can provide DGS with measures to evaluate the successful performance of their managers in improving costs and services.
2. Management's Effectiveness In State operations.
Governing Magazine, in conjunction with Syracuse University's Maxwell School of Citizenship and Public Affairs conducted a survey in 1997 and 1998, which evaluated a state's ability to manage its operations. There were five areas of management studied: financial management, capital management, human resources, managing for results and information technology. California received a "C-". Only the State of Alabama received a lower grade of a "D".
3. Expectations.
What does the State expect of its managers? The current budget process emphasizes and reinforces the importance of not over or under spending the budget. It causes managers to do everything they can do to hold onto employee positions. It causes managers to do everything they can to increase their budget.
Yet in talking with a great many of the managers in the State, they want to do an efficient job and provide good service. Yet they feel that the State does not recognize them or reward them on that basis. Of course the question is, how can anyone recognize managers for doing an effective management job when there is no data providing evidence that a manager has improved a unit of service, or improved a unit of cost? There is no management information system available that provides this type of data to the Governor or to the Legislature.
4. Wasteful Government Spending.
The Council for Excellence in Government is a national organization whose mission is improving the performance of American government. All of the Council's 700 members, or Principals, have had both public and private leadership experiences. In March 1997, a nationwide survey was conducted by the survey research firms of Peter D. Hart and Robert M. Teeter. This was taken of a cross section of 1,003 American adults. In addition, two-focus groups, one among women and one among men, were also conducted.
In the above survey, three-quarters (76%) of Americans think that wasteful government spending is a major cause for the reduced level of confidence in government. It ranks above "elected officials pursuing their own agenda (63%) and "elected officials not keeping promises (63%) (Reference web site is excelgov.org).
The lack of accountability for improving performance through the budget process does nothing but reinforce the attitude that Americans have about the wasteful spending by government.
V. RECOMMENDATIONS
1. Create The Position of Chief Information Officer At The Cabinet Level For Information Technology.
California should establish the position of Chief Information Officer (CIO) as an Agency Secretary and member of the Governor's Cabinet. The CIO should have the authority, subject only to the direction of the Governor, over all matters pertaining to information technology in the State. The CIO would have the authority to provide leadership, guidance and oversight of all information systems currently in use and be responsible for the design and implementation of all new systems and all enhancements to existing systems, whether they are funded internally or externally to the agency. The CIO should be given adequate resources, personnel and financial support to carry out his/her responsibilities.
The CIO should establish a Chief Information Officers' Council as the principal interagency forum to coordinate system design to most effectively meet all agency needs.
2. Develop A Long-Range Strategic Master Plan For Information Technology For California.
The most urgently needed effort following the Y2K project is development of an overall master plan for information technology in State operations. This effort must be based on an inventory of the myriad of existing systems and developing the plan to migrate from the present systems to the desired systems. It must utilize the most modern and cost effective technology, retain and interconnect existing systems, and replacing obsolete and costly systems when appropriate. Statewide enterprise systems should be planned to meet functional requirements that are common to all agencies, e.g., payroll, personnel, purchasing, inventory, costs and etc.
Standards, procedures, and guiding principles must be developed for IT planning to assure that systems achieve a suitable statewide IT infrastructure. On-going tactical and strategic activities at the department level must be integrated into a statewide IT vision and direction.
Definitions of system requirements must be thorough and include the needs of all levels of management and information reporting requirements to insure that inputs to systems produce the outputs required by all users. Standard and uniform terminology is imperative to statewide summaries.
It is currently in the planning stage to create statewide enterprise systems for payroll in coordination with the State Controller. Also DGS' Procurement Department has done some planning with an outside vendor on a new purchasing system. These systems need to fit into the long-range strategic plan to be utilized by all agencies and provide all the information needed in preparing financial results, budget and costs and procurement information on vendor, product, price detail.
3. Establish A Chief Operating Officer In The Governor's Administration To Provide Full Time Oversight And Supervision For All The Operations Of The State In The Governor's Administration.
As is the practice in most large companies in the private sector the Chief Executive Officer has many responsibilities that limits the hands-on-management of the business necessary to ensure success. Therefore, the position of Chief Operating Officer is generally used to provide the management skills on a daily basis in developing comprehensive business plans, goals, objectives, measurement targets, budgets and programs. Once the Chief Executive Officer approves the business plans the COO and his/her team of executives and managers are responsible and accountable for meeting the agreed upon targets.
The COO must be a strong leader with the ability to gain the respect and support of the agency heads. The COO must be a motivator and a team builder. The difficult challenge in the State of California is to develop a culture which brings together all the Constitutional Officer organizations working together in a coordinated effort to achieve a high level of success. This requires an understanding of political differences while striving for the common business goal of providing a high level of service at reasonable costs
4. Develop A Business Plan With Goals And Measurable Objectives.
a) Although each agency has developed a business plan with goals and objectives, it appears to have been largely a publishing exercise. The Governor and/or the Chief Operating Officer should make long-range planning a part of the business culture in the State's operation. A complete business planning cycle needs to be established as follows:

Establish the purpose of the organization and its' mission.
What are the long term goals that need to be achieved (year 5+)
What are the short term goals that need to be achieved (years 2-4)
What are the current objectives for year one that need to be met for the goals to be achieved.
What are the strategies that need to be implemented to achieve these goals
What are the objectives that have to be met each year to achieve these goals
What are the required resources that are needed to meet the objectives
Evaluate the past year's accomplishment to determine the degree to which objectives were achieved.
Start over with reviewing the purpose of the organization and it's mission and to see if revision and adjustment have to be made. This has to be done with each step of the business cycle.
b) Developing and defining measures for target objectives for unit
costs, quality of service and program outcomes is critical in the planning process. It is critical that the measures developed are meaningful and relevant to improving the performance of the State's operation, as detailed in the State's business plan. Without these measures of performance, no one can be held accountable for achieving the business plan. It is critical to recognize and provide encouragement to managers and individuals that successfully achieve their objectives through the management evaluation of performance process.
Recognition of good performance is an important factor in building morale and team spirit. Good performance documented by achieving results should be reflected in individual evaluations and in compensation.
c) Once these performance measures have been determined, the next
step is to determine the input data that needs to be included in the database for the financial and performance management system. This system can then be used to provide daily, weekly, monthly and yearly data tracking results against target objectives. Publishing performance data for each agency and their departments on a monthly basis will further institutionalize the planning process and change the current culture of the State. Making this information available to the public will also restore confidence in the voters when they see that the State is concerned about improving the effectiveness of government byholding individuals accountable for performance.
5. Create A New Budgeting Process.
a) The baseline budgeting process needs to be eliminated in its current form. Agencies need to meet with the Chief Operating Officers and agree on objectives for quality of service, unit cost improvements and targets for program outcomes that meet the Governor's goals. Year-to-year improvement should be established as an expected performance from all managers within the State. The budget process must support the business plan. If the resources are not available to achieve a specific objective number, then it would be unreasonable to hold a manager accountable.
b) After the COO and agencies agree on improvements in the quality of service and unit cost improvements, then budget staff must evaluate the dollars required for each agency based upon the agreements for service and unit cost improvements within the resources available for the State.
c) Having unit cost data available will also be helpful information when evaluating budget requests for BCP-ECPs.
6. Develop A Uniform Statewide Financial Management Plan That Provides Cost Data At The Activity Level.
The current cost accounting system is not designed to track costs or unit costs at the activity level. There is no information system that provides data such as to how many individuals are performing a specific work activity or how much it costs the State to perform a unit of work activity. We recommend that the DGS's financial management system be evaluated to determine if it can be utilized for the entire State.
Additional References
Al Gore, Vice President of the United States, October 1996, Reaching Public Goals;
Managing Government for Results
Bill Jones, Secretary of State, December 1999, California e Government Plan - A
Statewide Technology Initiative
California State Auditor, August 1999, Department of General Services: The California
Multiple Award Schedules Program Has Merit But Does Not Ensure That The
State Gets The Best Value For Its Purchases
California Council on Science and Technology, November 1999, California Report on
the Environment for Science and Technology - Summary
California Department of Finance, January 2000, CALSTARS System Capabilities
Department of General Services, September 1994, Executive Summary:
Conducting Electronic Commerce in California
California Public Policy 2000 Legislative Agenda, High-Tech Year 2000-California
State Public Policy Agenda
Council for Excellence in Government, October 1999, Findings From a Research Project
About Attitudes Towards Government
Department of Finance, Budget and Information Systems Planning Unit, September
1984, A Review of the California Fiscal Information System
Department of Finance, July 1999, CALSTARS Annual Plan -- 2000.
Department of Information Technology, 1999 Annual Report
Department of Information Technology, 1997 Annual Report
Department of Information Technology, March 1997, Department of Information
Technology Strategic Business Plan
Department of Parks and Recreation, 1998, Performance Based Budget Fiscal Year
1997-98
Governor Gray Davis, October 1999, Executive Order D-10-99 by the Governor of the
State of California
Governing Magazine, February 1999 , Grading the States - A Management Report Card
Governor Pete Wilson, 1993-99, Strategic Director for Information Technology in
California State Government
Jonathan Walters, 1998, Measuring Up - Governing's Guide to Performance
Measurement for Genius' (and Other Public Managers)
Legislative Analyst Office, December 15, 1998, State Should Employ "Best Practices"
On Information Technology Projects
Select Committee on Information Services In State Government, Spring 1995, Survey
Results: State Department and Agency Questionnaire on the Utilization of
Information Technology by State Government
Select Committee on Procurement, Expenditures & Information Technology, July 1998,
Survey Results; Questionnaire on Information Technology Training in State
Agencies
Subcommittee of Information Technology Coordinating Council on State of California
Enterprise Systems Strategy, September 1997, Enterprise Systems Report
Task Force on Government Technology Policy and Procurement, September 1994,
Executive Summary
Contributors
The Senate Advisory Commission on Cost Control in State Government would like to extend its gratitude to the following individuals who took time out of their busy schedules to provide input and insights for this study on the budget process. In addition to the people recognized below, some contributors chose not to be listed. This report would not have been possible without the cooperation and assistance of all participants.
William Ashby
Division Chief
Accounting and Reporting
Controller's Office
Mike Auman, Chief Information Officer
Chief, User Support Information
Systems
Department of Finance
Walter Barns
Chief Deputy Controller
of Finance
Controller's Office
Bill Behnk, Legislative Affairs
Coordinator
Department of Information Technology
Alfie Charles, Deputy Director of
Communications
Secretary of State's Office
John Chen
Division Chief of Audits
Controller's Office
Elias S. Cortez, Chief Information
Officer
State of California
Debra Fraga-Decker, Chief
of Procurement
Department of Information Technology
Chris Dunham, Project Manager
Health and Welfare Data Center
Electronics Benefit Transfer
Project
Al Duran, Chief Information Officer
Department of General Services
Dennis Ericson, Acting Deputy Director
Procurement Technology
Department of General Services
Tim Gage, Director
Department of Finance
Mike Jacobs, Chief Consultant
Assembly Committee on Information
Technology
California State Assembly
Lee Kercher, Deputy Director
Technology Infrastructure
Department of Information Technology
Vicki Glaser, Assistant Secretary
of State for External Affairs
Secretary of State's Office
Debbie Liebrock, Chief
Technology and Investment Review Unit
Department of Finance
Gaylord Moulds, Branch Manager
Tech and Acquisitions Support
Department of General Services
Steve Nissen, Special Assistant to the
Governor
Innovations in Government
Jeff Pell, Chief Deputy Director
Department of Information Technology
Eugene Pierocci, Chief
Office of Fiscal Services
Department of General Services
Chris Reynolds, Special Projects
Secretary of State's Office
Diana Rude, Consultant
Senator Richard G. Polanco
California State Senate
Mike Shamrock, Assistant Project Manager
CALSTARS
Department of Finance
Bernard Soriano, Chief of Information
Technology
Secretary of State's Office
Michael Shuper
Accounting and Reporting
Controller's Office
Loren Suter, Chief Deputy Controller
of Administration
Controller's Office
Kristin Trepke, Senior Consultant
Assembly Consumer Protection
Committee
California State Assembly
Commission Members and Staff Biographies
Milton G. Gordon—Los Angeles—Commission Chair; President, Milton G. Gordon Corporation; Member, California Medical Assistance Commission; Member five person Los Angeles County Real Estate Management Commission; formerly served as California Real Estate Commissioner and Secretary of Business and Commerce.
Werner P. Austel—Alamo— Retired Assistant Vice President - Procurement, from Pacific Bell, was responsible and accountable for all the Company's procurement functions such as contracting, purchasing, distribution, warehousing and materials management. He estab-lished this organization for Pacific Bell as a result of AT&T's divestiture of Pacific Bell. Since retirement he has done pro bono consulting for non-profit organizations. Mr. Austel currently serves on the Committee for Youth Safety and Development in the San Ramon Valley. He also heads up the Basketball Program for mentally challenged students and adults in the San Ramon Valley. He has a BA from the Calif. State University at Los Angeles and an MBA from Pepperdine University.
Jacqueline M. Bacharach—Rancho Palos Verdes—Jacki Bacharach & Associates, specializing in transportation and intergovernmental policy development; former Member, Rancho Palos Verdes City Council (1980); former Member, Los Angeles Transportation Commission; and Member, Commission on Local Governance in the 21st Century.
Louis W. Barnett—Sacramento—Chair of the California Unemployment Insurance Appeals Board, a former member of the Board of Directors of the Federal Home Loan Bank of San Francisco with over 35 billion dollars in assets, and he chaired the principle Plenary Session of the White House Conference on Libraries and Information Services in 1991. He is a former Vice President of Governmental Affairs for an aerospace parts manufacturing firm, has served as a legislative analyst for the Los Angeles City Council, and has served as research assistant to two U.S. Congressmen in Washington, D.C. Mr. Barnett tested into membership of Mensa and is a member of the National Association of Unemployment Insurance Appeals Board.
John M. Basler— Hillsborough— Vice President (Retired), Support Services, Pacific Bell. Previously, Vice President of Network Operations for Pacific Bell. Mr. Basler is a graduate of USC's MBA Program and holds a B.S. in Electrical Engineering. Has served as a member of the Advisory Committee to the City Administrator for the City of San Francisco, and the Construction Industry Council of California, and is former Chairman of the Western Council of Construction Consumers, National Business Roundtable. Mr. Basler was Assistant Treasurer for AT&T and Chief Engineer for Pacific Bell.
Carl A. Blomquist—Marina del Rey—Chief Executive Officer, Head Injury Rehabilitation Services; former CEO, Mutual Protection Trust Cooperative of American Physicians; and Vice Chair and Treasurer, Senate Advisory Commission on Malpractice Insurance.
Jerry Chang—Sacramento— Retired, former Project Manager, Sacramento Municipal Utility District; Member State Seismic Safety Commission; former Project Engineer, U.S. Army Corps of Engineers; California Department of Water Resources; Senior Engineer with the California Department of Transportation; former Member of the Transportation Research Board, National Research Council, the National Academy of Science, Minority Business Resource Center Advisory Committee, U.S. Department of Transportation, and Member of the Taiwan Sister State Legislature Task Force; Founder, Sacramento Chinese Mandarin Cultural and Educational Club and the Sacramento Asian Nursing Home; Has authored over thirty reports and papers for a variety of periodicals and is currently a self-employed consulting engineer.
Jerrold A. Fine—Los Angeles—President, Revere Financial; developed residential and commercial projects valued in excess of $200,000,000; Purchaser of non-performing instruments of finance from government and private sector institutions.
 
Robert L. Fox—Ventura—Former Chair and CEO, KVEN Broadcasting Corporation; former Chair, Southern California Broadcasters Association; Chair, Radio Board of the National Association of Broadcasters; Founder and President of the National Leukemia Broadcast Council; and former President of the Advertising Industry Emergency Fund.
Fredric S. Freund—San Francisco—Senior Vice President, Hanford · Freund & Company; former President of this company for over 25 years until 1994. He has been extensively involved in real estate brokerage, consulting and management for over three decades. A past president of the San Francisco Association of Realtors, Mr. Freund has served on the Board of Directors of several corporations and financial institutions, and has earned the Certified Property Manager, Counselor of Real Estate, and Certified Commercial Investment Member professional designations. He is a member of the Citizens Advisory Committee of the San Francisco Department of Building Inspection.
 
Louise Gelber-Fetchet—Arcadia—Attorney; Member, Board of Legal Aid; Board of People for People; Has served as Judge Pro Tempore and as a Settlement Officer in the Los Angeles Municipal and Superior Court; Attorney for, and Board Member of, the Southern California Motion Picture Consul; former Attaché of the California Supreme Court; former Columnist, Arcadia Newspaper; Listed in Who's Who of American Women; Who's Who of California; Who's Who in American Politics; and Who's Who in American Law, and Life Member of the National Registry of Who's Who.
Edwin A. Goldberg—Los Alamitos—Retired, Vice President and General Manager, TRW, Inc.; has spent 35 years in the space and defense business in the areas of management, research and development of electronic systems.
Raphael L. Henderson—Pasadena—First Vice President, Regional Investment Manager, CalFed; Executive Member, L.A. County Dept of Education School to Work Program; Volunteer Academic Recruiter for USC, United Way Family Preservation Corporate and Committee member. Featured panelist for several community oriented wealth building town hall meetings. Featured speaker on numerous radio programs involving low income investment strategies. Los Angeles Area Boy Scouts of America Corporate Fund raising leader. Juvenile diabetes Fund Raising member, member of Alpha Phi Alpha Fraternity, Mentor program volunteer USC, So. Cal. Golf Association, and a host of others.
Donald Jackson—Sacramento—Member, Public Employment Relations Board; Attorney specializing in taxes; former Member, California Bureau of Electronic and Appliance Repair; California Senate Staff Compensation Committee; and the California Trade Delegation to China.
Beth Kennedy—Los Angeles—CCO, Kaizen Heron Group; former Senior Vice President of Business Development & Administration at Universal Studios/MCA, Inc.; Interactive Multimedia producer and Executive with corporate, legal, technical and creative expertise in Fortune 100, Entertainment, Interactive and Entrepreneurial ventures. Vice President, Women in Film Activities, Production Executives & Future Media Committees of the Academy of Television Arts & Sciences.
David Lopez Lee, Ph.D—Los Angeles—Professor, School of Public Administration, University of Southern California, Los Angeles; Evaluation Specialist, USC's Institute for Public Private Partnership; former Director of Management Training, Research, and Program Development, Mariscal and Company.
Dick Mak—San Francisco—President and Chief Executive Officer of Pacific Airport Transportation Incorporated and Mak Brothers General Construction Company. Has served as a member of the Small Business Advisory Commission of the City and County of San Francisco since 1996 to present. Co-Chairperson of the Chinese American Political Alliance. Prior and current professional business background includes experience specializing in various areas throughout the San Francisco Bay Area as a business owner of restaurants, auto mechanics servicing companies, land and property owner, real estate and investment.
Leo E. Mayer—Sacramento—Former President, California State Employees Association; Member, San Francisco Postal Council; Business Forms Management Association; National Micrographic Association; and Association of Records, Managers and Administrators.
Vivian L. Nash—San Bernardino—Vice President and Senior Urban Planner, Dukes-Dukes & Associates, Inc.; and former Chair, City of San Bernardino's Housing Rehabilitation Loan Committee.
A. Alan Post—Sacramento—Artist and Economist, Former Legislative Analyst, California State Legislature; Co-Chair, California Citizens Budget Commission; Board of Directors, Public Policy Institute of California; former Chair, Commission on Government Reform; Chair, Commission on Ballot Initiatives; Interim Executive Director, Commission for Review of the Master Plan for Higher Education; and as served as a consultant on building democratic institutions for the Agency for International Development. Mr. Post has also served on the Task Force on California's Water future. He has his A.B. from Occidental College and an M.A. from Princeton University.
Tom Rankin—Berkeley—Research Director and Legislative Advocate, California Labor Federation; and Chair, State Commission on Health, Safety and Workers' Compensation.
 
John Rivera, Ph.D.—San Diego—Consultant, San Diego State University; Chair, Chicano Federation Leadership Training Institute; and has been active in a variety of community and academic endeavors.
Robert E. Simms—San Francisco—Attorney, Hanson Bridgett, Marcus, Vlahos & Rudy; Founder and Chief Executive Officer, Trux Airline Cargo Services.
Stanley Stalford, Jr.—Los Angeles—President, Stalford Homes; formerly with Drexel, Burnham, Lambert, Beverly Hills; Oppenheimer and Company, Los Angeles; and former Member, Board of Jewish Labor Committee.
Professional Staff
Norma J. Dillon—Executive Director, Senate Advisory Commission on Cost Control in State Government. She recently served as Senior Consultant on the staff of former Majority Leader, Senator Charles M. Calderon. Ms. Dillon has an extensive background in the legislative process. She was Governmental Affairs Director for a large California Non-Profit Association and has represented major business and professional interests before the California Legislature as a contract legislative advocate. Ms. Dillon brings broad experience in working with the private sector and management to the Commission. Her recognition of the importance of vigorous interaction between the private sector and state government are valuable assets to the Commission.
Janice Stork—Commission Secretary, has worked for the California Legislature since 1968 serving as Committee Secretary to the Assembly Committees on Public Safety; Public Employees and Retirement; Housing; Elections and Reapportionment; Insurance; and Government Organization.
Senate Advisory Commission On
Cost Control in State Government
(916) 322-0270
Publications Index
No. Date Cost Report
0271-S Aug. 1987 $5.39 The Super Agencies
0293-S Feb. 1988 $5.39 Report On Management Training
0386-S Feb. 1989 $5.39 State's Regulation of Financial Institutions
Re: Banking and Savings & Loans
0409-S Apr. 1989 $7.81 Report On California Coastal Commission
0480-S Feb. 1990 $4.31 California's Economic Development Programs
0528-S Oct. 1990 $5.28 Getting The Most Out Of Calif. Transp. Dollar
0595-S Aug. 1991 $4.31 Toward A More Effective Housing Policy
0702-S Jan. 1993 $4.31 Report On The Prison Industry Authority
0792-S Feb. 1995 $9.16 Executive Compensation In California State Government
0859-S Apr. 1996 $4.04 State Procurement Practices
0985-S 1999 $4.50 California's Budget Process: Improving Quality, Cost-
Efficiency, Effectiveness and Accountability in State
Government
Ordering Information
Copies of these publications may be purchased from:
Senate Publications
1020 N Street, Room B-53
Sacramento, CA 95814
(916) 651-1538
Make checks payable to Senate Rules Committee.
Please include Senate Publication Number when ordering.
LINKS TO INTERNET SITES
Title Email Address
Assembly Home Page http://www.assembly.ca.gov
Bureau of State Audits http://www.bsa.ca.gov
Department of Finance http://www.dof.ca.gov
Department of Infor-
mation Technology http://www.doit.ca.gov
CALSTARS http://dof.ca.gov/html/calstars/index.html
Legislative Analyst's Office http://www.lao.ca.gov
Senate Advisory Commission on
Cost Control In State Government http://www.sen.ca.gov/cost
Senate Home Page http://www/sen.ca.gov